SuperPro Designer方便了各种工业生产(配药学、应用生物学、专业化学、食品学、矿物处理、提纯水、空气污染控制等等)综合过程中的建模、评估、和优化。工业生产和环境操作模块相结合使用能使大规模的工业生产和处理过程以及通过污染预防和控制达到实际消耗最小化的目的,并且设计和评估可以同时进行。
  SuperPro Designer对于从事过程开发、过程工程和过程生产的工程师和科研工作者来说是非常有用的工具。它也是专业环境处理的得力工具(比如废水处理、空气污染控制、消耗最小化、污染预防)。它包括的模块有:Reaction、Phase Separation、Homogenization、Chromatography、Drying/Evaporation、Pressure Change、General Unit Operations、Product Formulation、Solid/Liquid Separation、Solid / Gas Separation、Tanks.
功能:
模拟140个以上的操作单元;
严谨的反应堆模块;
物质和能量平衡;
广泛的化学成分和混合数据库;
批处理设置;
产量分析和分离瓶颈;
环境影响评估;
资源(利用物、原材料和劳动力)的时间功能跟踪等等。::::::English Description::::::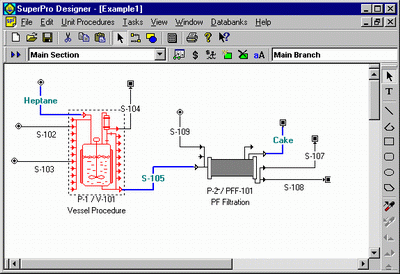 SuperPro Designer is a superset of BatchPro, EnviroPro, and BioPro Designer. The combination of manufacturing and environmental operation models in the same package enables the user to concurrently design and evaluate manufacturing and end-of-pipe treatment processes and practice waste minimization via pollution prevention as well as pollution control.
SuperPro Designer is a valuable tool for process and product development engineers and scientists, environmental consulting engineers, and treatment/disposal plant engineers and managers. It enables the user to efficiently develop, assess, and optimize environmentally beneficial technologies. It provides under a single umbrella modeling of manufacturing and end-of-pipe treatment processes, project economic evaluation, and environmental impact assessment.
product:SuperPro Designer LT 6.0
Lanaguage:English
Platform:/WinNT/2000/XP
Size:93MB